The Family and Medical Leave Act ("FMLA") is a federal law that applies to employers that have a certain number of employees. Under this law, eligible employees are entitled to take up to 12 weeks of unpaid leave in a 12-month period for certain qualifying reasons, including a serious health condition. Employers frequently believe that an employee taking leave can never be terminated since they have FMLA rights to be reinstated to their same or equivalent position at the end of the leave. While it is true that this is a job-protected leave, it is also true that employees on FMLA may still be terminated while on FMLA if the reason is not in retaliation for taking FMLA leave and is non-discriminatory.
Only employees who meet certain FMLA eligibility requirements are able to take this leave. If an employee isn't eligible for FMLA leave, the employee could still ask for a leave of absence, but that would likely be subject to approval by their manager, HR, and/or senior leadership and the interactive process. If an employee takes a leave of absence that is not covered under FMLA, they do take a risk of losing their employment. Without job protection under FMLA, there is no guaranteed employment upon their return.
Terminating Employees Under FMLA
FMLA does not provide employees with any greater rights to reinstatement or other benefits and conditions of employment, including continued employment. An employer may terminate an employee regardless of FMLA leave status provided that there is a legitimate, nondiscriminatory reason for termination. Examples of when an employer can terminate an employee:
They do not return from leave after taking their 12 weeks of FMLA leave expires.
They can perform the essential functions of the job with reasonable accommodation, but they do not return to work after the employer-provided (offered) accommodation.
Infractions or poor performance that come to the employer's attention during the leave.
Insubordination, fraud, or other prohibited conduct while out on leave.
If an employee would have been terminated regardless of FMLA leave because of poor performance, then the employee may be terminated before, during, or after FMLA leave.
If prior to the leave, an employee fails to meet the goals of a corrective action program designed to improve performance, then the employee may be terminated upon return from FMLA leave.
A layoff or reduction in force that includes the employee's position.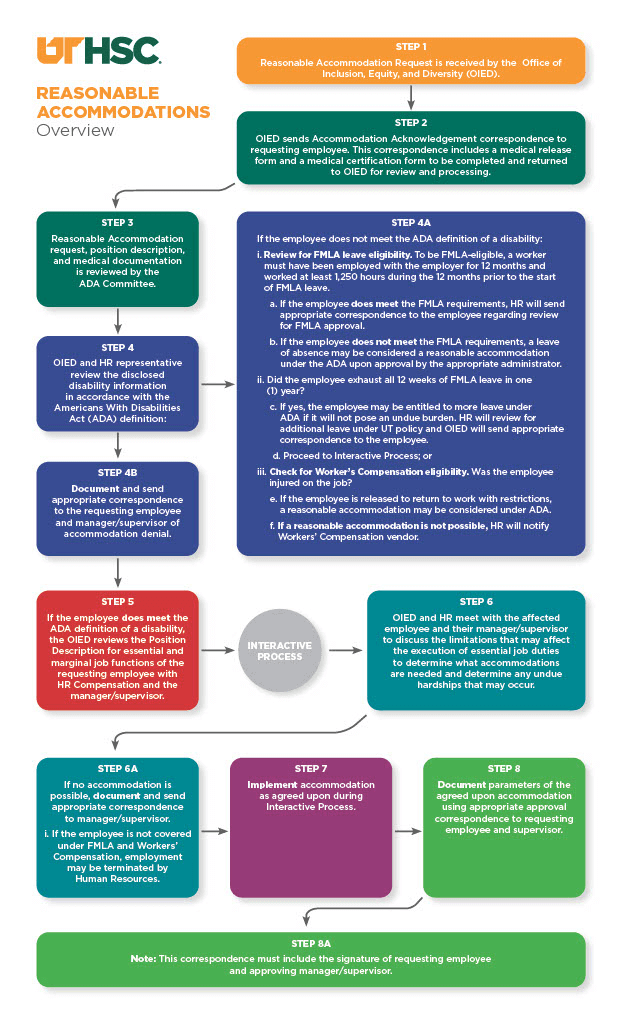 Even where there is no legal requirement to accommodate a request for unpaid time off, employers should proceed with caution before terminating an employee. A business must examine and ensure that other forms of leave and/or statutory protections do not apply in this instance. Those same terms of wrongful termination still apply, especially when employees exercise their entitled workplace rights. Therefore, when an employee reaches the end of a 12-week FMLA leave and cannot return to work, rather than automatically terminate, the employer should slow down and ascertain whether the employee's medical condition is covered by the Americans with Disabilities Act (ADA), worker's compensation or is another type of disability covered by state or federal law.
FMLA Requirements
The FMLA applies to companies with 50 or more employees and contains very specific requirements for managing employees with medical issues. For covered employers, FMLA provides job-protected unpaid leave for employees working at least 1,250 hours over the preceding year who need to take leave when dealing with medical issues (including caring for children, spouses, or parents) and/or for parents to bond with a newborn or adopted child.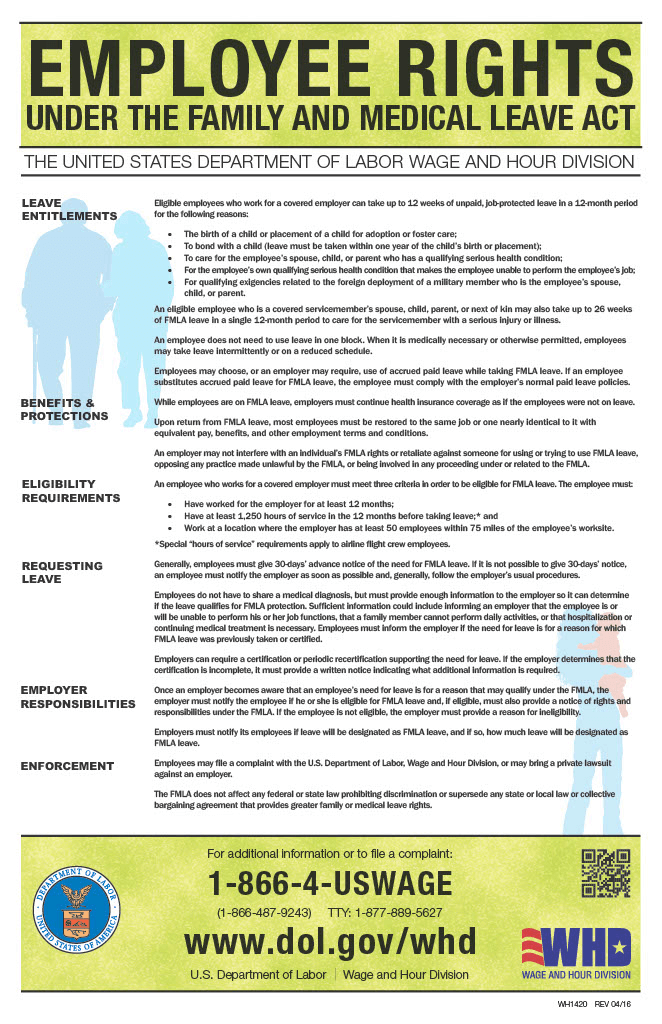 FMLA requires employees to follow certain notices. Employers may require 30-days of notice prior to starting an FMLA leave, if the leave was foreseeable. Employers may also request medical certifications or other documents from an employee's medical provider to certify the need for a medical leave. A person who is deemed ineligible for leave may lose protection from FMLA if they do not give a timely response. The employee may take leave on an annual basis of up to 12 weeks, assuming they have reached the 1,250 work-hour requirement in the preceding 12 months.
Before an employer can terminate an employee without affecting the FMLA's rights or obligations, they must follow FMLA requirements. Specifically, a covered employer must give written notice to the staff of its rights under the FMLA.
Termination under the Americans with Disabilities Act (15 or More Employees) and State Disability Laws
The Americans with Disabilities Act (ADA) requires that businesses with 15 or more employees provide reasonable accommodations for employees with disabilities. While employers are not required to create light duty assignments or new jobs to retain employees who are unable to perform essential job functions, unpaid leave for a short duration can be a reasonable accommodation.
State Family Leave and Sick Leave Laws
Employers in many jurisdictions must now comply with paid sick leave requirements. For example, paid sick leave requirements apply to all companies in California—meaning that even if a business is not covered by family leave or pregnancy disability leave, it must allow an employee to use paid sick leave time if going to the doctor, or if they should choose to stay at home to care for their child. Once paid sick leave is exhausted the employee may take further leave as deemed appropriate by their employer. Employers should abide by existing company policies and avoid treating similarly situated employees differently.
States may impose more extensive paid leave rules for larger companies, while extending those protections—under certain circumstances—to employees working at smaller firms. For example, the California Family Rights Act provides FMLA-like protections only for companies with 50 or more employees. But the Legislature recently added amendments expanding protections for employees taking parental leave following the birth or adoption of a child. These new rules apply to companies with as few as 20 employees working within a 75-mile radius.
Workers' Compensation Laws
Another challenge arises when you consider firing an employee who has filed a workers' compensation claim. Most states' workers' compensation laws impose penalties- either fines, jail time, or both, for wrongful termination. And while firing an employee who has filed a workers' compensation claim is not outright prohibited, employers must take great care to avoid a retaliation claim.
Employers can defend themselves by showing that the employee who has been absent from work due to workers' compensation injury is not capable of returning to work. Unless the employee is covered under the FMLA or ADA, generally state law does not prohibit termination for an excessive absence. Employers should work closely with their insurance carrier and attorney to ensure there is no violation of state law or the insurance policy.
Employer Paid-Time Off Policies
Employers must abide by any existing company policies on paid time off (PTO). Thus, even if an employee is ineligible for leave under federal, state, or local laws, the employee must be allowed to use accrued paid leave time. Once PTO time is exhausted, the employee might be allowed to take unpaid leave at the discretion of the employer. In granting leave requests, employers must avoid treating similarly situated employees differently.
Short-Term and Long-Term Disability Policies
Short-term and long-term disability insurance policies offer income protection (cash benefits) to people who are unable to work for medical reasons. Generally, these policies do not offer job protection. In many cases, an employer may fire an employee receiving disability benefits. But before taking any action, an employer should contact attorneys and/or the insurance carrier to avoid a wrongful termination claim.
Legal Counsel
As you can see, a decision to terminate any employee while on a medical leave of absence is a complex one that can involve the interplay of multiple laws. It requires consideration of a myriad of different facts and circumstances. Employers who wish to terminate or lay off an employee while on a medical leave of absence, or shortly after returning therefrom, should always contact an experienced employment law attorney before deciding to do so.
If you are an employer with questions about leaves of absence, terminations, or any other human resources issues, please contact the attorneys at Freeburg & Granieri, APC to examine the appropriate practices in your case and to enjoy the privileges of an attorney-client relationship before your case reaches the courts.