Did you know your employer is required by law to document certain information about you, including your wages, hours, payroll records, workplace injuries, and illnesses, tax withholding, as well as records of accrued vacation and other benefits? That information should be gathered in one place: the employee's personnel file.
What is Personnel Files Used For?
An employee personnel file is a collection of employee documents and personnel records that detail the history of the employment relationship from application through termination. These records have been used to determine the employee's qualifications for hire, promotion, additional compensation, disciplinary action, or even termination. Your personnel file can also become important evidence in a lawsuit against your employer for discrimination, wage violations, or wrongful termination.
What's in a Personnel File?
A personnel file contains both information provided by the employee and documents regarding the employee during the course of their employment. Sometimes, personnel files hold items that employees may never have seen, such as references from previous employers, comments from customers or clients, write-ups of coaching or disciplinary meetings, or memos of management's observations about an employee's behavior or productivity. When employment disputes develop, or an employee is demoted, transferred, or fired, the personnel file often provides essential information about why problems arose. However, there is no specific definition of what should be in a personnel file.
State and Federal Law on Personnel files
While there is no federal law governing personnel files, many states have passed laws granting employees the right to view or copy at least some of the contents of their personnel records. All employers are subject to the state personnel file law.
For example, current and former employees typically have the right to see evaluations, performance reviews, and other documents that determine a promotion, bonus, or raise. However, they might not have the right to view letters of reference from former employers, test results, or records of an investigation into criminal conduct or violation of workplace rules. Some states even allow employees to challenge information in their files, for example, by including a letter (called a "rebuttal") in the personnel file disputing inaccurate information.
For states that do not have a law addressing the subject, there may be state administrative regulation or local ordinance that does control access to personnel records. In these states, the only way to gain access to personnel records might be to file a lawsuit against the employer for violating other employment laws.
States with no Provisions:
Mississippi, Missouri, New Jersey, New Mexico, and West Virginia.
States with provisions granting rights to certain Public Employees:
Alabama, Arizona, Arkansas, Colorado, District of Columbia, Georgia, Hawaii, Idaho, Indiana, Kansas, Kentucky, Maryland, Nebraska (public school district only), New York, North Dakota, South Dakota, Tennessee, Texas, Utah, Vermont, Virginia, and Wyoming.
In the state of California, every current employee (or their authorized representative) has the right to inspect and receive a copy of his or her personnel record, maintained by their employer. Let's use California as an example of the laws governing the process of requesting a personnel file:
California's Personnel Files Law
According to California Labor Code, all employers subject to wage and hour laws must provide employee access to their records, including salaried employees. Each current or former employee has the right to inspect their personnel records pertaining to performance or to a grievance proceeding, within 30 days of making a written request for records. Written requests are required, and if the employee makes an oral request, the employer must supply a form to make a written request. To submit a written request, by the employee, or an agent of the employee, the employee can use the template provided below. Then, their employer has up to 30 days to provide employees access to the documents unless a later date is agreed upon by the requesting party. Employees may inspect their personnel file at reasonable intervals and check any personnel records relating to performance or to a grievance proceeding.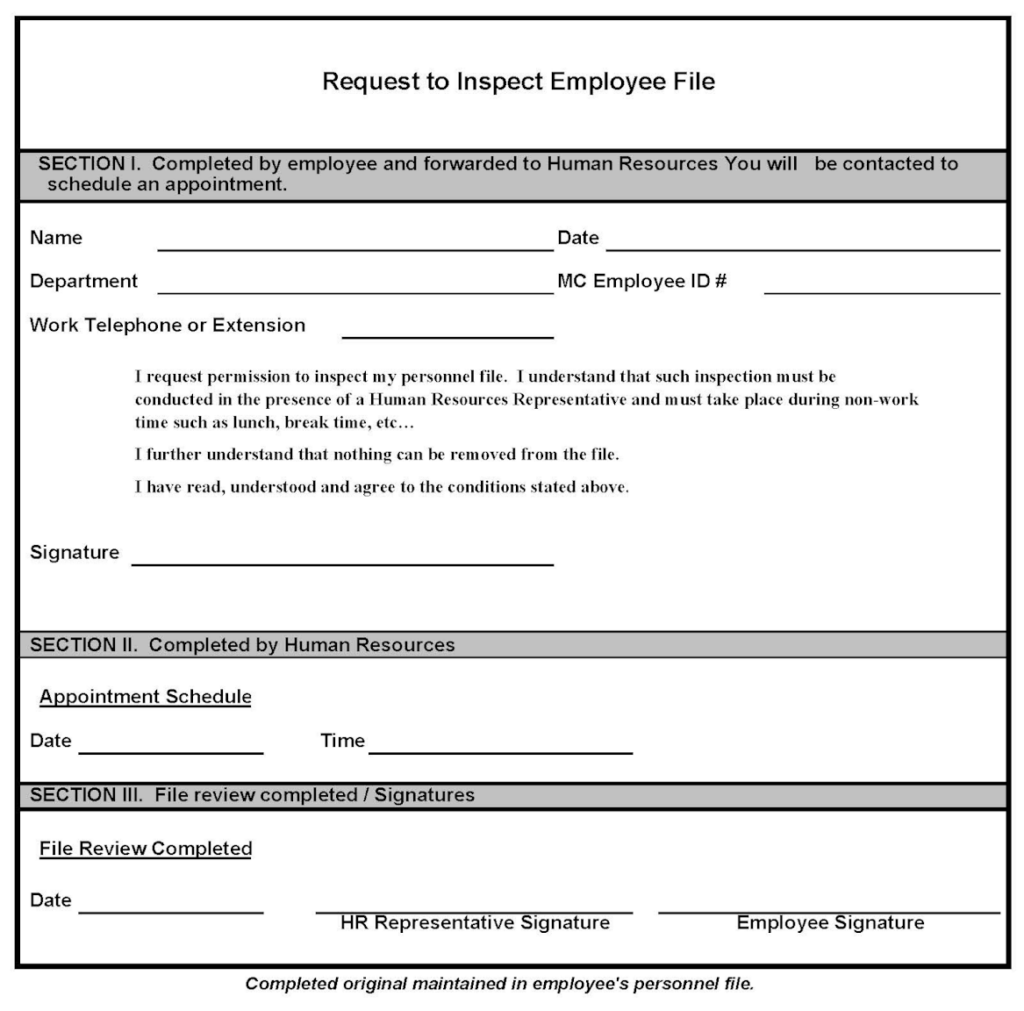 Employee Access
If the personnel records are kept off-site or the employer does not make them available at the workplace, the employee must be allowed to view them at the storage location without loss of pay. However, if employees' working hours are not an appropriate time, employees can view files during breaks, non-work hours, or any time outside the employee's work hours. Employees have the right to copy personnel files, employment records, or any documents that the employee has signed. The employer can require that the employee pay a commercial copying service fee to recover the actual cost of document production.
Employer Compliance
If the former employee was terminated for reasons relating to harassment or workplace violence, the employer may provide copies of records or make them available offsite. Additionally, employers may redact the names of any nonmanagerial employees, and employers need not comply with more than one request per year from a former employee. If the employee files a lawsuit against an employer that relates to a personnel matter, the right to review personnel records ceases while the lawsuit is pending.
If an employer refuses to permit a current employee, former employee, or representative to inspect or copy personnel records within the times specified, or times agreed to by mutual agreement, the current employee, former employee, or the Labor Commissioner may recover a penalty of $750.00 from the employer. A current or former employee may also bring an action for injunctive relief to obtain compliance and may recover costs and reasonable attorney's fees in such an action through the court process.
What type of personnel records can I review?
You are entitled to review any personnel documents which are, have been, or are intended to be used in determining your qualifications for employment, promotion, transfer, additional compensation, discharge, or other disciplinary action.
Categories of records that are generally considered to be "personnel records" are those that are used or have been used to determine an employee's qualifications for promotion, additional compensation, or disciplinary action, including termination. The following are some examples of "personnel records" (note - this list is not comprehensive and there is not a specific requirement of what must be maintained in a personnel file):
1. Application for employment
2. Payroll authorization form
3. Notices of commendation, warning, discipline, and/or termination
4. Notices of layoff, leave of absence, and vacation
5. Notices of wage attachment or garnishment
6. Education and training notices and records
7. Performance appraisals/reviews
8. Attendance records
9. Medical records
By law, the right to inspect personnel files does not apply to (these may be in a separate file outside personnel records):
Records relating to the investigation of a possible criminal offense.
Letters of reference or external peer review documents for academic employees of institutions of higher education.
Ratings, reports, or records that were:

a. Obtained prior to your employment,
b. Prepared by identifiable examination committee members, or
c. Obtained in connection with a promotional examination.
Ex: Any portion of a test document, although you may see a cumulative total test score.
Materials relating to your employer's staff planning, where the materials relate to or affect more than one employee, except if the materials have been or are intended to be used by the employer in determining your qualifications for employment, promotion, transfer, or additional compensation, or in determining an individual employee's discharge or discipline.
Personal information about other employees.
Records relevant to any other pending claim between you and your employer which may be discovered in a judicial proceeding.
Investigatory or security records maintained by your employer to investigate criminal conduct, unless your employer takes adverse personnel action based on information in such records.
*The right to inspect personnel files does not apply to an employee involved with a valid collective bargaining agreement if the agreement expressly provides for all of the following:
(1) the wages, hours of work, and working conditions of employees
(2) a procedure for the collective bargaining unit to inspect and copy personnel records
(3) premium wage rates for all overtime hours worked
(4) a regular rate of pay of not less than 30 percent more than the state minimum wage rate.
Are employers required to create or maintain personnel records?
There is no law that requires employers to keep a personnel file on each employee. However noted above, there are some state-specific records that employers must keep. The law does not require employers to create or maintain records that they do not already keep in the course of running their business. Some employers may not complete performance reviews or keep anything but basic contact and tax information on their employees, as a matter of practice.
For minimalist compliance, include:
full name
employee number (if you use one)
home address, including zip code
date of birth
gender
job title
basic payroll records
How can I gain access to personnel files?
Upon written request, the employer must provide a copy of the personnel file, at a charge not to exceed the actual cost of reproduction, not later than 30 calendar days from the date the employer receives the request. A former employee may receive a copy by mail if he or she reimburses the employer for the only actual cost of postal expenses and copying. A terminated employee still has access to his or her personnel file, but can only make one formal, written request to inspect personnel records per year. Your employer may require that you inspect your personnel file on your own free time outside the employer's normal business hours. However, if you are required to travel to the location where the records are stored, the inspection must be during a time when you are required to render services to the employer, and you must be compensated for that time at your regular rate of pay.
However, while an employer is required to give you access upon request, an employer may take a reasonable amount of time to respond to a request. The best practice is email contact for a record of all communication. If the employer has a human resources department, contact them first. If there is no human resources department, then email your supervisor and/or the employer's designated official whom you believe has control over personnel files.
Remember, current employees can request copies of personnel files at least annually and former employees can request access to review personnel files once after the termination of employment. If an employer refuses to produce any accessible part of your personnel record, a current or former employee may seek legal counsel.
Personnel file FAQ's
Do I still have the right to inspect my personnel file after quitting?
Yes. All former employees have a right of inspection. Current employees may inspect personnel files and employment records outside regular business hours.
What if I have never seen my personnel records?
Remember, if you are a current or former employee, you may request access to your file outside the employer's regular business hours. Moreover, if you are a current employee — regardless of whether you have any issues at work or not — it's good practice to review your performance reviews and similar files (promotions, transfers, demotions, etc.). If you are ever written up or have an incident with another employee (unless confidential), request copies of those documents as well. Finally, if your employer has done something to make you think your rights have been violated, let them know — preferably in writing (so that there is a record of your concern). It would be a violation of your rights for them to retaliate against you for this. This could trigger the responsibility for your employer to retain all related records (not just personnel records).
What does "at reasonable times and intervals" mean?
Although there is no specific definition for this phrase, the California Division of Labor Standards Enforcement (DLSE) has stated that "reasonable times" is during the normal office hours of the business where personnel records are usually and ordinarily maintained. The employer is not required to make those requested records or a copy available at a time when the employee is actually required to render a service to the employer.
DLSE has further declared that its enforcement policy considers "reasonable intervals" to be once every year, unless there is reasonable cause to believe that the file has been altered in a manner that might adversely affect the interests of the employee, or the file contains information that is pertinent to an ongoing investigation affecting the employee, in which case more frequent inspections would be considered "reasonable".
What if I disagree with the information in my personnel file?
If you disagree with something in a performance review or an action taken by your employer, such as disciplinary action, you have the right to submit a response to be included in your personnel file. This could relate to any irrelevant or incorrect information, in which a written statement explaining the discrepancy can resolve the issue. However, this does not imply any agreement on their part, but you and your employer may, obviously, see things differently. An employer should keep this as part of the records related to the issue that prompted your response. It is always a good idea to put everything in writing so that there's a record of it
Legal Counsel
If you ever feel that your rights have been violated by an employer or think you may need to consider legal action against a current or former employer, contact Freeburg & Granieri, APC to help obtain your personnel files. At Freeburg & Granieri, APC we will maintain a strictly confidential attorney-client relationship if we need to inspect personnel records. Those files may contain information that helps you prove discrimination, harassment, or other civil rights violations. It could also help you prove that the reasons an employer has provided for adverse employment action against you are untrue.
If you are an employer who has questions regarding what documents you must or should maintain as part of an employee's personnel file, call the attorneys at Freeburg & Granieri, APC today for guidance.