Employers may deny a medical leave request that would cause significant difficulty or expense, unless the employee has a right to leave under the Family and Medical Leave Act (FMLA), ADA, or a state or local law.
It's important that both the employee and employer are communicating about the need for time off or "leave" before the date of a medical procedure. First, an employee must figure out if they are qualified to take FMLA leave or leave under California's Family Rights Act (CFRA), then it's important to document leave with the employer.
Under FMLA, eligible employees who work for companies covered by FMLA are entitled to as many as 12 weeks of unpaid leave for a serious medical condition or to care for a family member with a serious medical condition. FMLA rules also stipulate that your job status is protected while you are away on leave. Understand these rules if you expect to be out of work due to surgery.
Even if you do not qualify for FMLA leave, you may be protected under the Americans with Disabilities Act (ADA). Under the ADA, employees with disabilities are entitled to reasonable accommodations. In this case for example, you might be entitled to a reasonable amount of unpaid time off for your surgery.
Family Medical Leave Act (FMLA)
Employees who work for a private-sector employer that has 50+ employees within a 75 radius—who have been working there for at least 12 months and have worked at least 1,250 hours—can take up to 12 weeks off in a 12-month period. This time is unpaid, and your employer may require you to use your vacation and paid time off time first.
In addition, the condition for which you need FMLA leave must be documented by your physician. Recuperating from a surgical or medical procedure, is likely to be easily justified as a serious medical condition.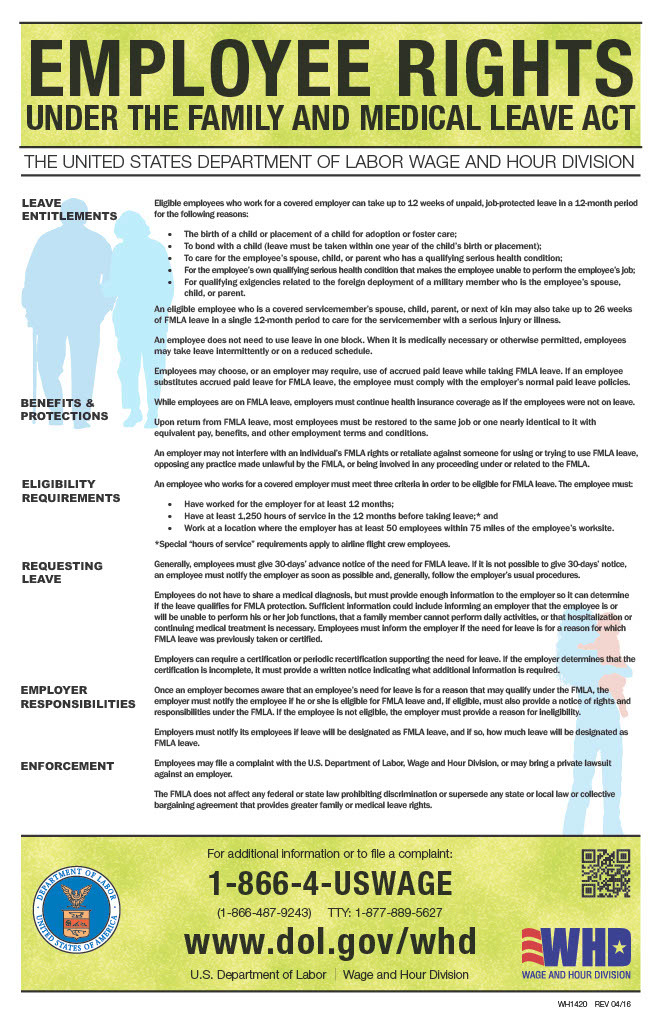 Given privacy laws protecting your confidentiality as a patient, it is not required that you expose the details of your surgery to your employer. However, it will be much easier to avoid misunderstandings if you inform your employer that you will be absent from work on a specified day.
If you plan to take advantage of your right to leave under the Family Medical Leave Act, then your employer will need to know of your need for medical or family leave. The employer may request documentation to support your need for leave (and your ability to return to work) and it is very important to comply with proper requests within the specified time or you may lose your rights under the FMLA.
To qualify for FMLA leave, you must have your doctor or nurse complete whatever medical documentation your employer requires.
California Family Rights Act (CFRA)
The California Family Rights Act (CFRA) authorizes eligible employees to take up a total of 12 weeks of paid or unpaid job-protected leave during a 12-month period. Employees who work for an employer that has 5+ employees, who have been working for at least 12 months and have worked at least 1,250 hours are eligible. While on leave, employees keep the same employer-paid health benefits they had while working. Eligible employees can take the leave for the following reasons:
The birth of a child or adoption or foster care placement of a child.
To care for an immediate family member (spouse, child or parent) with a serious health condition.
When the employee is unable to work because of a serious health condition (SHC).
A serious health condition is an illness, injury, impairment, or physical or mental condition that causes or requires:
Any period of incapacity or treatment in connection with, or after inpatient care
Any period of incapacity requiring absence from work, school, or other regular daily activities, of more than 3 consecutive calendar days
Ongoing treatment by or under the supervision of a health care provider for a chronic or long-term health condition that is incurable
Restorative dental or plastic surgery after an accident or injury
CFRA and FMLA leaves generally run concurrently. CFRA leave is generally unpaid and your employer can require you to use any accrued vacation, paid time off, or sick time as part of your leave.
Americans with Disabilities Act (ADA)
Under the ADA, when an action requiring significant difficulty to an employer's business operations that it would amount to an undue hardship to provide, then an employer is not obligated to provide reasonable accommodations.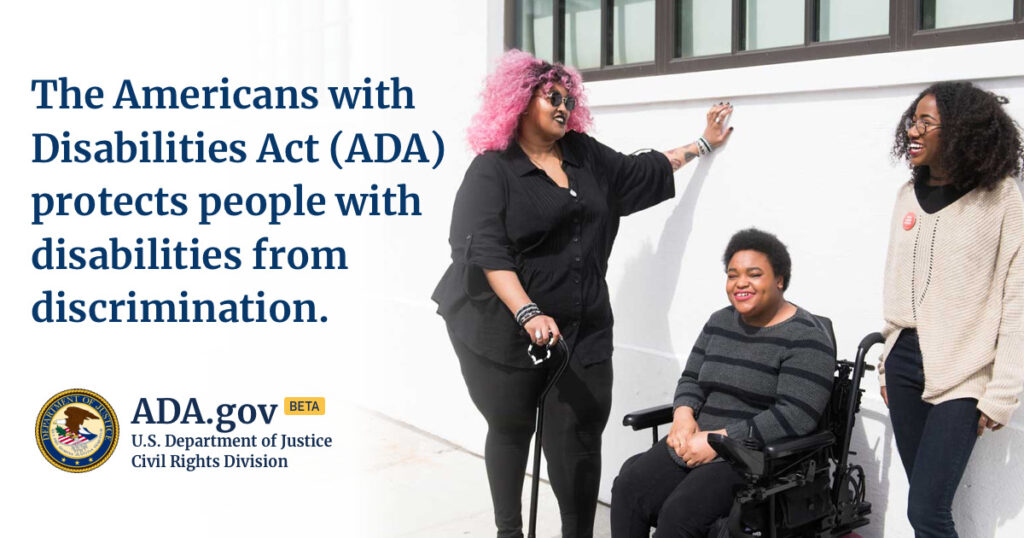 Reasonable Accommodation Request
Reasonable accommodations are changes to your workplace that allow you to do your job despite your disability. Accommodations could include changes to your job duties, your workspace, your work schedule, or workplace policies or rules.
If you have a disability as defined by the ADA, you might also be entitled to time off from work as an accommodation—as long as it doesn't create an undue hardship for your employer.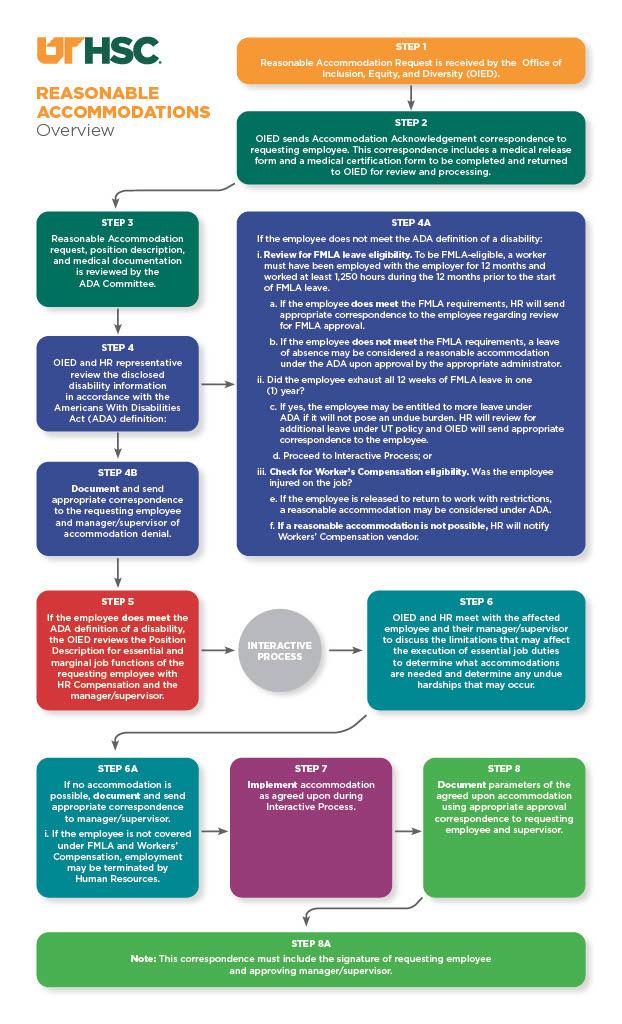 Job Restoration
FMLA was enacted to prevent employers from penalizing other employees who needed time off work to tend to a serious medical condition or that of a family member. Your employer has the right to delete the job you had or hire someone to fill your position while you're out on leave. However, the company must restore you to an equivalent job with comparable duties and pay upon your return to work.
To avoid a dispute concerning equivalent work and pay, your employer might hire a temporary worker to perform your job duties while you're away from work.
Defining an Equivalent Job
An equivalent job doesn't necessarily mean the job you return to has the same title as the job you had before FMLA leave. For example, if you are a sales department secretary paid $50,000 a year, your employer may not have been able to continue its departmental operations with the secretarial role vacant throughout your absence. Your employer's ability to hold open your job might be based on business demand and staffing needs.
However, if you're placed in a secretarial position with the marketing department, using the same skill set and paid $50,000 a year, your company will have fulfilled its job-restoration obligation.
Taking a Personal Leave
If you're not eligible for FMLA leave or if your employer isn't obligated to provide FMLA leave, the company doesn't have to keep your job open while you're out of work due to surgery. In some cases, employers offer a non-FMLA, personal leave of absence to employees who don't qualify under the FMLA regulations. Although it isn't required to restore you to your job upon your return, the company might offer a return-to-work option by placing you in another job as a good faith gesture to demonstrate good employee relations.
Elective Surgeries
Leave has always been a form of accommodation under the ADA and FMLA, and employees may request a leave of absence for many reasons, including recovery from surgery. But what if the surgery is purely cosmetic or elective?
Requests for leave to recover from cosmetic surgery example
An employee elects to have a rhinoplasty (nose job) and an abdominoplasty (tummy tuck) and will need four weeks of leave while recuperating. The employee requests the time off as an accommodation. Does the employer have to provide leave under the ADA?
Probably not. In order for any individual to be entitled to accommodations under the ADA, including leave, they must first meet the definition of disability. To have a disability under the ADA, a person must first have an impairment. Assuming the individual did not need to have cosmetic surgery for reasons related to an underlying medical condition, there is no physical or mental impairment present in this situation and therefore the person would not be covered under the ADA. In cases where an individual does not meet the definition of disability, the employee would not be entitled to leave under the ADA. Of course, if other options to take leave (i.e. vacation or sick leave) are available to the individual these could be offered.